Ria Mae H. Borromeo, Ph.D.
Assistant Professor
Interests:
Data Engineering
Crowdsourcing Process Management
Hybrid Human-Computer Systems
Knowledge Discovery in Databases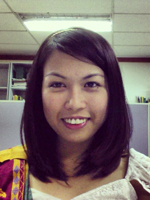 Education
Keio University 
Doctor of Philosophy in Engineering (2017)
Master of Science in Engineering (Computer Science Major in Databases) (2011)
University of the Philippines Los Baños
Bachelor of Science in Computer Science (2006)
Research and Creative Work
Research Projects
Authorship of Scholarly/Creative Work for Public Consumption
Publications
Published Work
Nikookar, S., Esfandiari, M., Borromeo R.M., Sakharkar, P., Amer-Yahia, S., Roy, S.B. (2021). Diversifying Recommendations on Sequences of Sets. Springer Verlag GmbH Germany, part of Spring Nature 2022. The VLDB Journal 
 https://doi.org/10.1007/s00778-022-00740-6
 (May 2022).
Conference Proceedings and Paper Presentations
Proceedings of the 25th International Conference on Intelligent User Interfaces Companion (IUI'20). (Cagliari, Italy, March 2020) 
Paper: Interactive Generation and Customization of Travel Packages for Individuals and Groups. 
In Proceedings of the Web Conference 2021 (WWW '21), (Ljubljana, Slovenia.
April 19–23, 2021)
Paper: Multi-Session Diversity to Improve User Satisfaction in Web Applications
The 24th ACM Conference on Computer-Supported Cooperative Work and Social Computing (Virtual, France. October 2021)
Paper: 
Task Assignment Strategies for Crowd Worker Ability Improvement.
Courses Handled
Affiliations